A Manifestation for Kounellis
Video by Jürgen Buchinger
---
«In contributing art works from the Raussmüller Collection to a presentation of Jannis Kounellis in the exhibition space of Christian Stein in Pero/Milan, my aim has been to facilitate a richly diverse experience of this remarkable artist. The Kounellis phenomenon was to be lent physical form through works that are each an experience in themselves. I was interested in creating a series of individual situations hallmarked by powerful pieces and thereby not to think in categorical terms of an "exhibition". As a result, in each of the six rooms of the Spazio Christian Stein, a characteristic facet of Kounellis' oeuvre was brought to life. In a departure from the norm, there was no thematic connection between the rooms – other than the overarching concept of simply allowing the works to speak for themselves. It was initially envisaged that this would happen without the "director" Kounellis.
Jannis then decided not to miss the opportunity to get directly involved. I was delighted about this, since it resulted in enlightening insights. The originally planned presentation nevertheless underwent a change in character. A few more works were added, so that the end result was indeed an "exhibition". It nonetheless encompassed the wide range of aspects and effects at which it had aimed, and the impressions that conveyed themselves room by room, work by work, proved powerful and enduring. It was a joy for me to spend time inside these works and to feel myself in each situation as part of a larger, coherent whole. The aspect of the real that Kounellis has brought no less imaginatively than uncompromisingly into art allowed me to experience an expansion of my thoughts and feelings that was stimulating beyond measure.» (Urs Raussmüller)
The exhibition took place from April 28 to October 10, 2015.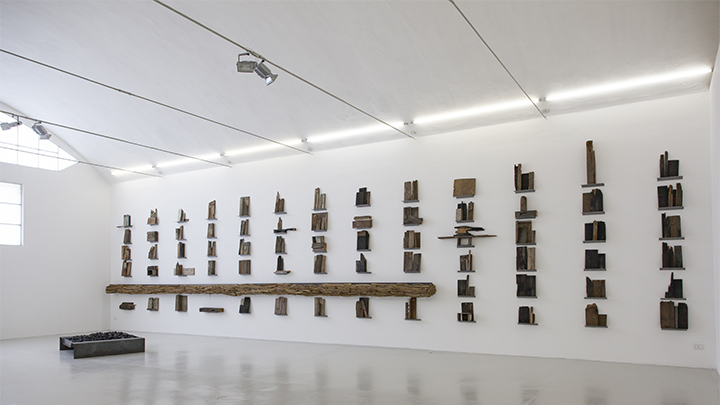 ---
11.02.2019
© 2015 Raussmüller. Translation from the German by Karen Williams.