Mario Merz
Architettura fondata dal tempo – architettura sfondata dal tempo, 1977
by Christel Sauer
---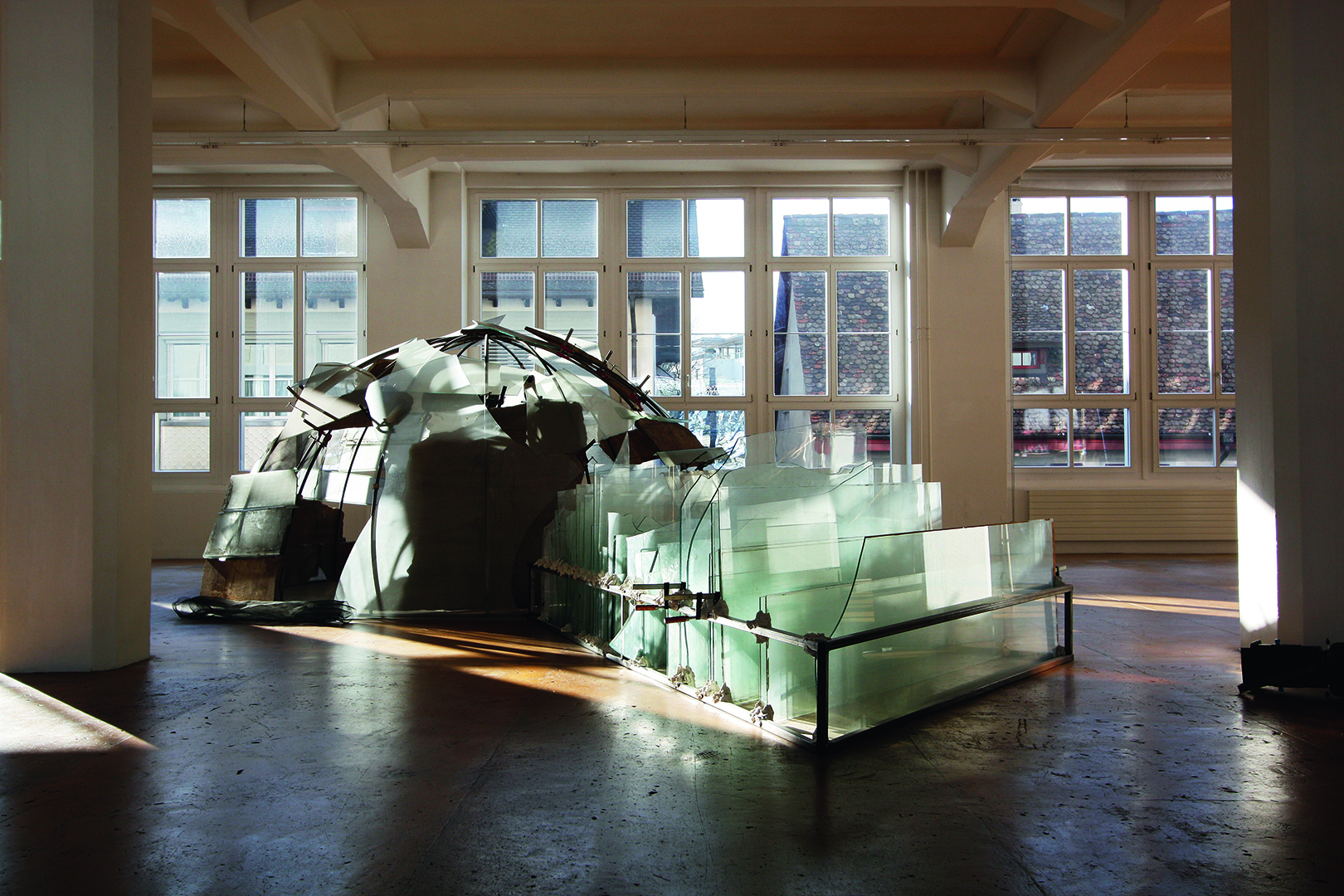 The architecture referred to in the title "Architettura fondata dal tempo – architettura sfondata dal tempo" is an igloo. It is an elemental, organically formed house. The igloo is loosely covered with stone slabs and panes of glass. At its edge it makes contact with the point of a wedge that seemingly "pushes" the igloo to induce rotation. The wedge, an open metal frame, is made up of stacked and erected panes of glass. A spotlight directs a ray of light onto them from the exterior. Energy penetrates the layers of glass and reaches the igloo's dome in multiple refractions. It then hits a different kind of light on the inside: a fine blue fluorescent tube that gushes out of an empty green wine bottle.
The work was created in 1977 and was presented for the first time in the Galleria Salvatore Ala in Milano. Here it was titled "Pietre del selciato e vetri rotti della casa distrutta riattivati per l'arte in una galleria – in un museo" (Stones from a Pavement and Broken Panes of Glass from a Destroyed House Reactivated for Art in a Gallery, a Museum). Photos of the work with this title were published extensively. The "Architettura" received its present title after Mario Merz constructed it as a part of a long-term installation in the Hallen für Neue Kunst in April 1984. Urs Raussmüller had purchased the dynamic work in 1979 and presented it in a group exhibition in the Städtische Galerie im Lenbachhaus, Munich in the same year. In 1982 he included it in an exhibition in the Kunsthalle Basel before giving it a permanent place in Schaffhausen in 1984.
In the Hallen für Neue Kunst the "Architettura" is placed so that a view leads through the windows to the other side of the street. The buildings there are made of the same material: stone and glass. They are more stable and orderly than Merz's nomad domicile, but they may not be as enduring. "Architecture is a sometimes mathematical, sometimes decorative construction; but it is always a housing construct to give people a social dimension. There is no architecture as such, just architecture that serves a purpose. (…) When I made the igloo, I acted with a power of vision. The igloo is not just the elementary form but also the point of departure for fantasy." (Merz in: Mario Merz, Musée d'art moderne de la ville de Paris and Kunsthalle Basel, 1981)
This text is an excerpt from the Raussmüller publication Mario Merz: Archittetura fondata dal tempo – archittetura sfondata dal tempo, 1977 (2009) which is part of the popular Mario Merz Series. The series highlights (so far) eight outstanding works by Mario Merz by means of knowledgeable texts and large-format illustrations. All publications can be ordered individually or as a complete set in the Raussmüller bookshop.
---
21.02.2020, Christel Sauer / Raussmüller
Photos: Fabio Fabbrini
Translated by Christopher Langer